Frances Perkins
Frances Perkins was born on April 10, 1882, in Boston, Massachusetts, of an upper middle-class Republican family. Her birth name was Fanny Coralie, which she later legally changed to Frances. When she was two years old the family relocated to Worcester, Massachusetts, where her father opened a profitable stationery business. She spent her childhood there. Her parents, both devoted Congregationalists, instilled in Frances a strong desire to "live for God and to accomplish something in life."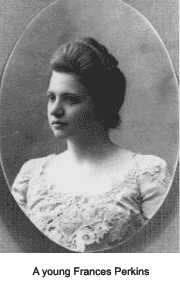 It was with her father`s approval that Frances enrolled in the predominately male Worcester Classical High School. Trained as a teacher, she taught at numerous universities and authored two books. She is best described as a woman with a mission. Not a single-issue person, Perkins was prone to women`s causes and she highly valued individual liberty. Taking part in the women`s suffrage movement, marching in suffrage parades and giving street-corner speeches became her modus operandi. While attending Mount Holyoke College, Frances Perkins became further committed to the advancement of women. In addition to her studies, she visited many local factories where she took an interest in the problems of working people — especially the working poor. Perkins was graduated from Mount Holyoke College in 1902. She returned to Worcester where she taught part time and volunteered to work with a variety of Worcester social service organizations. Perkins accepted a teaching position in Lake Forest, Illinois in 1904 and immediately began to spend her free time at Hull House and other Chicago immigrant settlement houses. Then, in 1907, Perkins moved east to Pennsylvania to study economics and sociology at the University of Pennsylvania. While there, she received a Russel Sage Foundation Fellowship. It was in the summer of 1909 that Perkins decided to move to New York City to survey the living and working conditions there, and pursue her education at Columbia University. There she earned a master`s degree in economics and sociology in 1910. In the same year, she became head of the National Consumer`s League (NCL) where she lobbied for better working hours and improved working conditions. She served for the following two years as secretary. During that time, she successfully lobbied the state legislature for a bill to limit the workweek to 54 hours for both women and children.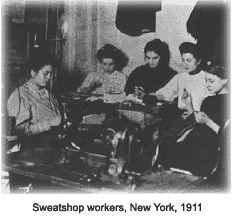 A sad day for Perkins came in 1911, when she and numerous others witnessed 146 female factory workers jumping to their deaths in the Triangle Shirtwaist Fire — the building they worked in lacked fire escapes. She said it was "a never-to-be-forgotten reminder of why I had to spend my life fighting conditions that could permit such a tragedy." In her role as a social worker and political activist, Perkins felt that "poverty was preventable, destructive, wasteful and demoralizing. In the midst of potential plenty, it is morally unacceptable in a Christian and democratic society. Because the `poor` are people, with hopes, fears, virtues, vices and fellow citizens...." — her focus thus being the improvement of the quality of life for all. Because she devoted most of her time to enhancing the public welfare, Perkins` diverse efforts were viewed by her enemies as "liberal." Perkins overcame many of the restrictions and prejudices of her era, especially in areas that were dominated by men. As an outstanding individual and career woman she was also an effective public official whose work would profoundly change the lives of all Americans. In 1913, Perkins, 33, married Paul Caldwell Wilson, an economist and budget expert in the New York Bureau of Municipal Research. She retained her surname. She briefly withdrew from public service after her marriage and the birth of her daughter. Following the resumption of her professional and political career, Perkins` husband suffered an emotional breakdown from which he never fully recovered. Her personal life, however, was just that; she managed to keep her husband and daughter away from the public eye. In her pursuit of reform, Perkins was appointed to the State Industrial Commission in 1918 and named its chairman in 1926. It was only two years later, in 1929, that then governor Franklin D. Roosevelt promoted Perkins to be the Industrial Commissioner of New York, the chief post in the state labor department. She continued her efforts to expand factory investigations, reduce the work week to 48 hours for women, and facilitate Minimum Wage and unemployment insurance laws.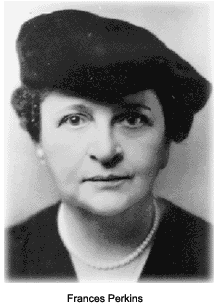 In 1933, President Roosevelt appointed Perkins as his Secretary of Labor, making her the first woman in the United States to hold a Cabinet position. She served longer than any other Secretary of Labor, from March 1933 to July 1945. As secretary, she played a key role in writing New Deal legislation. She immediately proposed federal aid to the states for direct unemployment relief, an extensive program of public works, an approach to the establishment by federal law of minimum wages and maximum hours; unemployment and old-age insurance, abolition of Child Labor, and the creation of a federal employment service. Because of her diligence and vision, the National Labor Relations Act (Wagner Act, 1935) was passed, which gave workers the right to collective bargaining and created the National Labor Relations Board. A famous event, in which Perkins led thousands of steelworkers to a meeting place to negotiate their bargaining rights, was captured and circulated in a newspaper photo. Best described as a strong advocate for government intervention for the public good, Perkins` involvement and persuasive ventures usually led to victory.
In 1934, while serving in the cabinet, she was made chairwoman of the President`s Committee on Economic Security. A report issued by that committee laid the basis for the Social Security Act. Although it was considered at the time to be a radical departure, the proposal was accepted with enthusiasm by Roosevelt. A petition in favor of the measure was signed by 20 million people. Her most important contribution as chairwoman resulted in the Social Security Act of 1935. When the Fair Labor Standards Act passed in 1938, Perkins had managed to persuade Congress to eliminate "labor conditions detrimental to the maintenance of the minimum standards of living necessary for health, efficiency and well-being of workers." The law also established a minimum wage. On the other hand, Congressional conservatives were angered with Perkins when on one occasion she had refused to deport Harry Bridges, the head of the Westcoast Longshore Union. Bridges, an Australian longshoreman who came to America in 1920, fought to create a union open to all races, religions, and political preference and worked to ensure safe working conditions, health care benefits, and establish pensions. He was accused of being a Communist. The conservatives brought an impeachment resolution against Perkins in 1939; however, due to the lack of evidence, the impeachment hearings were eventually dropped.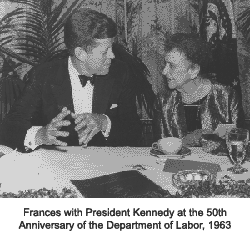 Perkins resigned from her position as Secretary of Labor in 1945 to head the U.S. delegation to the International Labor Organization conference, held in Paris. In 1946, President Harry S. Truman appointed Perkins to the U.S. Civil Service Commission, where she served until 1953. In the latter part of her life, Perkins continued her endeavors at Cornell University as a professor of industrial and labor relations. In 1965, she died at the age of 85 in New York, and was buried with her family ancestors in New Castle, Maine.
---
Works by Frances Perkins:
People at Work
(1934) and
The Roosevelt I Knew
(1946).
For additional famous women, see
Important and Famous Women in America
.