New York Stock Exchange
The New York Stock and Exchange Board was formed on March 8, 1817. The name was shortened to The New York Stock Exchange (NYSE) in 1863. The NYSE is home to more than 2,800 companies whose combined value exceeds $15 trillion. The stocks traded at the exchange are face-to-face trades.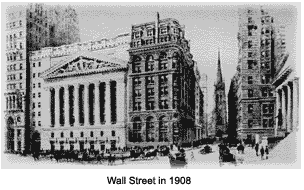 The exchange has experienced a few times that it had to close its doors, including the beginning of World War I and the September 11, 2001, terrorist attack. Black Thursday, October 24, 1929, signaled the beginning of a new development for the stock exchange in which it was forced to implement new recovery systems in case of a "crash." In 1934, the exchange was registered as a national securities exchange with the United States Securities and Exchange Commission. In the beginning The New York Stock Exchange's origin can be traced all the way back to the signing of the Buttonwood Agreement on May 17th, 1792. That agreement was struck by a group of 24 [2122:New York City: stockbrokers and merchants at 68 Wall Street, under a buttonwood tree. Originally, there were five securities traded in New York City with the first listed company on the NYSE being none other than the Bank of New York.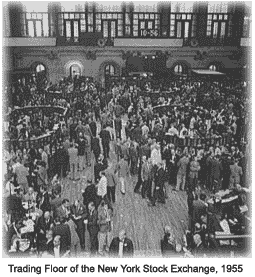 National Securities Exchange On October 1, 1934, the NYSE registered as a national securities exchange with the U.S. Securities and Exchange Commission. The Governing Committee was the primary governing body until 1938, at which time the exchange hired its first paid president and created a 33-member board of governors. In 1971 the exchange was incorporated as a not-for-profit corporation, and in 1972 the members voted to replace the board of governors with a 25-member board of directors. That newly formed board was equipped with 12 representatives, a chairman and CEO representing public interest, and 12 representatives from the securities industry.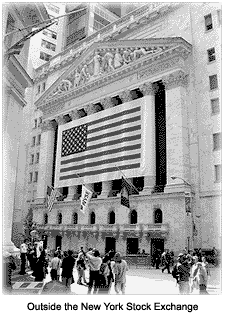 Still a powerhouse Today, the New York Stock Exchange (NYSE) is the second largest stock exchange in the world. Leading up to 1996, it was the biggest exchange until its trading volume was exceeded by that of National Association of Securities Dealers Automated Quotations (NASDAQ). The NYSE is now a for-profit business. The transformation into a for-profit organization occurred when the fully electronic stock exchange Archipelago merged in late April of 2005. One can find the main building of the New York Stock Exchange, Inc., located at 18 Broad Street, at the corner of Wall Street, on the south side of Wall Street, in New York City, New York.