Alfred P. Sloan Jr.
Alfred Pritchard Sloan Jr. was born on May 23, 1875, in New Haven, Connecticut. Alfred grew up to be an intelligent young man. He enrolled in the Brooklyn Polytechnic Institute, where he attended college-preparation classes.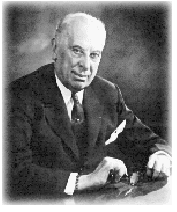 That education gave Sloan an edge, and in 1892, he graduated from the Massachusetts Institute of Technology with a degree in electrical engineering. As the youngest member of his graduating class, he quickly became a draftsman in a machine shop, where he rendered all sorts of parts for cars, boats, and numerous other mechanical devices. After some time at the machine shop, Sloan gathered that it was in need of new business. After learning about better ways to make ball bearings, he suggested that the firm make anti-friction ball bearings. The idea went over extremely well with the shop owners, and just a while later, he became the shop president at the age of 24 (1899). The company produced anti-friction ball bearings for some time, and became the leader in the industry. That position in the market opened many opportunities, and in 1916, the firm merged with United Motors Corporation. That was a bold move for Sloan, but he managed to keep "ahead of the pack" by remaining as president. The merge was based on where the money in the market was headed at the time. The automotive industry was beginning to flourish and Sloan wanted to be a part of it. To break into the automotive market, Sloan huddled with his subordinates, and in 1918, they merged again. This time it was with a parts company and the General Motors Corporation, in a drive to enhance their market share in automotive sales. Although Sloan was unable to keep his position during that merge, he managed to gain it back in 1923 when he became the president of the General Motors Corporation. In a desire to give back to the community, Sloan established a philanthropic nonprofit, the Alfred P. Sloan Foundation, in 1934. That was an important commitment for Sloan because he looked upon the foundation as an extension of his life work. The main goal of the foundation, in Sloan's eyes, was that it would "continue as an operating facility indefinitely into the future... to represent my accomplishments in this life." As president of General Motors Corporation, Sloan wished to get more involved with his employees. In 1937, he gained the position of Chairman of the Board and then continued on as the Chief Executive Officer until 1946. Sloan retired as Chairman of General Motors Corporation in 1956 at the age of 81. In a final note on his life, the General Motors Board said:
"The Board of Directors has acceded to Mr. Sloan's wish to retire as Chairman. He has served the corporation long and magnificently. His analysis and grasp of the foundation has made possible the growth and progress of General Motors over the years."