George C. Marshall
Introduction
One of the most important figures of the 20th century, George C. Marshall exerted much influence during World War II and the postwar years. U.S. presidents and members of Congress, as well as world leaders, listened to Marshall because of his honesty, fairness, and trustworthiness. His personal qualities of selfless character, patriotism, leadership, integrity, and human compassion were admired by people who worked with him.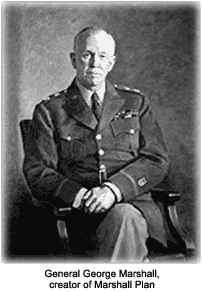 As U.S. Army chief of staff during the war, General Marshall raised and prepared the ground and air forces to help the Allies fight the most destructive war in history, against the Axis nations of Germany, Italy, and Japan. But Marshall hated war. When he served as secretary of state after the war, he proposed to help the European countries rebuild their economies, and rebuild the peace. A measure of a man should include a few of the many statements by those who knew and worked with him, and those who hold George C. Marshall to be their role model in public service. President Harry S. Truman considered George C. Marshall to be the greatest man he knew. Former British prime minister Winston Churchill said:
"There are few men whose qualities of mind and character have impressed me so deeply as those of General Marshall ... He is a great American, but he is far more than that ... He has always fought victoriously against defeatism, discouragement and disillusion. Succeeding generations must not be allowed to forget his achievements and his example."
Churchill also called Marshall the "true architect of victory" in the West European theater of World War II.
Referring to then Secretary of State Colin Powell, President George W. Bush said the following to the George C. Marshall ROTC Award Seminar on National Security at Virginia Military Institute (VMI) in April 2002:
"Only one other Army general has gone on to serve as Secretary of State, and that was George Marshall himself — VMI's highest-ranking cadet in the Class of 1901. As Army chief of staff, General Marshall became the architect of America's victory in the Second World War. He fought tenaciously against our enemies, and then worked just as hard to secure the peace."
Upon receiving the George C. Marshall Foundation Award in November 2004, Secretary of State Powell said:
"George C. Marshall was a national treasure, and so is the George C. Marshall Foundation. The foundation's impressive museum and library and its wonderful educational programs ensure that the Marshall legacy lives on to inspire new generations of leaders."
George C. Marshall is remembered for more than the "
Marshall Plan
" that saved Europe and other countries after World War II. An American soldier in
World War I
and World War II as well as a statesman, Marshall served the United States all of his adult life.
Early life: 1880-1901
George Catlett Marshall was born on Dec 31, 1880, in Uniontown, Pennsylvania, and lived at his parents' home until 1901. George was a distant cousin to John Marshall, the former chief justice of the Supreme Court. George was the youngest of four children and was extremely shy and reserved during his youth. From September 1897 to June 1901, he attended Virginia Military Institute in Lexington, Viginia. His major was civil engineering and he joined the Kappa Alpha fraternity in 1901. He played varsity football in 1900 and was First Captain (i.e. cadet commander) in 1900 and 1901.
Marshall always ranked first in military discipline and about midway academically. He graduated 15th of 34 in the Class of '01. Marshall once said, "What I learned at VMI was self control, discipline, so that it was ground in. I learned also the problem of managing men." Young officer: 1902-1917
In September 1901, Marshall was examined for an Army commission at Governors Island, New York. He was commissioned as second lieutenant in the infantry and became commandant of students at the Danville Military Academy in Danville, Virginia.
Early in 1902, George C. Marshall married Elizabeth "Lily" Coles of Lexington, Virginia. They had no children. He reported to Fort Myer, Virginia, and was ordered to join the 30th Infantry Regiment in the Philippines in May 1902. During World War I, Marshall was promoted to captain while serving in France. He won high praise for his planning of the Cantigny operation, as well as the St. Mihiel and Meuse-Argonne offensives. Mid-career: 1918-1938
From 1919 to 1924 he was aide-de-camp to General John J. Pershing in Washington, D.C., while advancing to lieutenant colonel in August 1923. Marshall continued to climb up the ranks as he moved between assignments in numerous American states and global locations. Elizabeth died on September 27, 1927. Marshall remarried in 1930 to Katherine Tupper Brown. That union also remained childless. Marshall was promoted to brigadier general in October 1936 and continued to be promoted.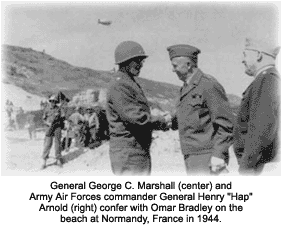 World War II: 1939-1945 By September 1939, Major General Marshall had become chief of staff. In August 1941, he attended the Atlantic Charter Conference with FDR and Churchill in Newfoundland, and another in December 1941-January 1942, followed by the Arcadia Conference with the president and Churchill in Washington, D.C. Those high-level meetings were followed by trips to Britain for discussions with Churchill. A critical decision was made; Marshall was opposed to the proposed Allied landings on Sicily that Churchill favored, preferring a cross-channel attack from Britain to France — later to be the famous June 6, 1944, D-Day invasion of Normandy. Marshall was promoted to five-star General of the Army in December 1944. He attended all the key War Councils with FDR and Churchill, including:
Following the war, Marshall retired in November 1945. He was 65 years old, having served 45 years in the military.
Diplomat: 1946-1948
The postwar period sprouted its own problems. While Europe was picking itself up from the ashes of war, and America was celebrating and receiving service sons and daughters home, President Truman still needed a few good people. Marshall's retirement hardly lasted more than a week when he was called again to serve. With Japan's defeat in 1945, a power vacuum formed in China. Civil war had turned into revolution involving the Nationalist government of Chiang Kai-shek and the communist forces of Mao Zedong. Marshall was appointed head of the U.S. Mission to China with the rank of Ambassador. Marshall was now President Truman's special representative. The ambassador left immediately for China for meetings with Nationalist and Communist Chinese officials, in an attempt to mediate the civil war there. The huge country become a communist state.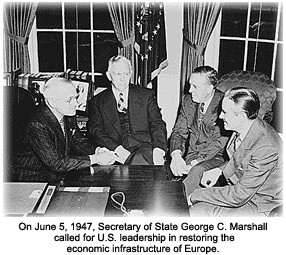 Marshall became secretary of state in January 1947 and remained in that position until January 1949. Secretary of State Marshall gave his famous European Recovery Act (Marshall Plan) address at
Harvard University
's commencement on June 5, 1947. Marshall was the architect of the plan to aid European nations beginning in April 1948. Following considerable international official travel, he resigned as secretary of state in January of 1949 at age 69.
Final assignments: 1949-1959
Upon retirement from the secretary of state post, Marshall immediately became chairman of the American Battle Monuments Commission, a post he retained until his death in 1959. Marshall was restored to active duty in the Army in March 1949. He also was appointed as head of the American National Red Cross from September 1949 through September 1950. The Korean War began when North Korea declared war on South Korea on June 25, 1950. On September 12, Marshall was asked to serve as secretary of defense, a post he remained at until September 1951. In December 1953, Marshall received the Nobel Peace 2007:Prize] in Oslo, Norway, for his work on the Marshal Plan and service for peace and recovery from World War II. Marshall's objective was to reach out to the nations of Eastern Europe and win a community of nations as partners. The idea extended to Europe and Eurasia. The idea persists in the post-cold war period, an unprecedented opportunity, not to advance the policy of any particular nation, but to advance the well being of all countries. Epilogue After a long and illustrious career of service to his country, George Catlett Marshall died at Walter Reed Hospital in Washington, D.C., on Oct 16, 1959. A normal biography would stop at the death of the subject, but there is more to say about George Marshall. His legacy of service building peaceful international relationships continues to inspire today's world leadership. The 10th anniversary of the George C. Marshall European Center for Security Studies in Garmisch, Germany, was celebrated in 2003. The mission of the center is to foster a more stable security environment by advancing democratic institutions and relationships, especially in the field of defense; promoting active, peaceful security cooperation; and enhancing enduring partnerships among the nations of North America, Europe and Eurasia. The Marshall Center forms the nexus of NATO and the "Partnership for Peace" on the European continent and worldwide. Attending the function were leaders from around the world: ministers of defense, chiefs of the general staff, cabinet ministers and ambassadors, many of whom studied at the institution. America was represented by Vice President Dick Cheney, Secretary of Defense Donald Rumsfeld, among others. Nearly 50 years since the passing of George Marshall, his legacy continues to serve as the bedrock of western diplomacy in the modern world.