Washington Irving
Washington Irving probably got more out of his ordinary talent than many other writers of his day who were said to be legends from the cradle. His fans from across the Atlantic included Sir Walter Scott and Charles Dickens. His homeland America cheered him as he tossed Sydney Smith's¹ slap-in-the-face comment, "Who reads an American book?" back into the naysayer's face.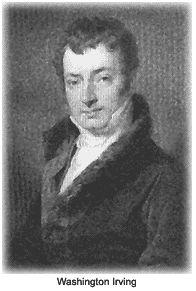 It was Irving, along with Poe and Hawthorne, that set the bar high for aspiring American short-story authors. The Sketch Book of Geoffrey Crayon (1819-20) included his famous "Rip Van Winkle," who slept through the entire War of Independence, and produced a parable of the passage of America from colonies to nation, with overtones that probably were deeper than he realized. That classic book also contained "The Legend of Sleepy Hollow," which captured a wide audience on both sides of The Pond. Early years Irving was born in April 1783, in New York City, not far from present-day Wall Street. His parents, Scottish-English immigrants, were great admirers of General George Washington, and named their son after their hero. He enjoyed a number of diversions, including writing, architecture and landscape design, traveling, and diplomacy. He is best known as the first American to make a living solely from writing. Early career Prior to entering the field of literature, Irving traveled in Europe from 1804 to 1806, absorbing its turn-of-the-century ambience before returning to New York. He first published a few essays on New York life, titled the Salmagundi Papers, in 1807-08. They were followed by A History of New York, using one of Irving's now-famous pen names, "Diedrich Knickerbocker ²," in 1809, which describes and makes fun of early Dutch settlers on Manhattan Island. Following the War of 1812, Irving returned to England for a brief, unsuccessful fling at running a family-owned business. He remained in Europe, however, to complete the first version of his Sketch Book under the nom de plume Geoffrey Crayon, Gent, which launched his international career. Meanwhile, "Sleepy Hollow" gave the public its first Connecticut Yankee, immortalized in the doleful character, Ichabod Crane. The fictional Sleepy Hollow is actually the lower Hudson River valley area near his home, Sunnyside, in Tarrytown, New York. "Sleepy Hollow" also was a foreshadowing of the rough-and-tumble American frontiersman, Brom Bones. Bracebridge Hall (1822), a series of character sketches, increased his visibility and reputation. Traveling man Irving enjoyed traveling. A large part of his life was spent in Europe, particularly England, France, Germany, and Spain. He often wrote about the places he visited. For example, his biography, The Life and Voyages of Christopher Columbus (1828), is about the Italian explorer who sailed under the Spanish flag. Trained as a lawyer, Irving also was active in diplomacy. In 1842, American president John Tyler appointed him Minister to Spain — a position now called Ambassador. That meant he could travel throughout Europe as a diplomatic representative of the United States. Upon his return to New York, Irving established his home, Sunnyside, in Tarrytown. Irving never married or had children. He shared Sunnyside with his brother, Ebenezer, and Ebenezer`s five daughters, for the following 25 years. During that period, when Irving traveled or was sent on a diplomatic mission, he always had a home and family to which he could return. Sunnyside was visited by numerous artists, politicians, writers, and other influential people. Irving`s tree-shrouded home was publicized throughout the world as the subject of countless lithographs, magazine covers, and tourist maps. Images of Sunnyside could even be found on cigar boxes, sheet music, and ceramic pitchers. In memoriam On November 28, 1859, on the eve of the Civil War, Washington Irving died at Sunnyside, surrounded by his family. He was buried in the Sleepy Hollow Cemetery at the Old Dutch Church in Sleepy Hollow.
---
¹Smith was an outspoken clergyman and erstwhile writer in England, who despite (or, as many say, because of) a high degree of intelligence, was often times at odds with
anything
new in the literary genre, as evidenced in his editing on the staff of the
Edinburgh Review
. ² Eventually, the pen name came to mean a person from New York, and is where the professional basketball team, New York Knickerbockers (now shortened to "Knicks"), got its name.